October 31, 2019



Great place! Nice and clean and very welcoming!
R.W.
May 18, 2019
I had a very great experience, it was so relaxing that I think I dozed off.
B.G.
July 27, 2018
CBD Pro Sport Level 5 Ointment
I thought I would let you know that cream is very beneficial for me. All the back pain is coming from my labral tear. Thank you for seeing and I'm thankful I bought the cream.
E.D.
June 18, 2018
CBD Level 4 Ointment
CBD Cream - Love the product....thanks
S.T.
March 30, 2018
The aromas were relaxing and I enjoyed my massage very much. I left feeling euphoric. God bless.
G.G.
December 4, 2017



My doctor recommended that I get a massage and my cousin referred me to you. I will be back, Thank you!
R.S.
March 06, 2017



Like always, 5 - Star Rating for my massage.
Thank you.
K.S.
November 21, 2016
Terry, I Love the Seaweed and Arnica Foaming Bath that I purchased!
R.B.
November 19, 2016
Thank you Terry, your massage was so relaxing and uplifting at the same time. The facial and scalp and hair detail was something very special and I really enjoyed it. Also I didn't shower my hair till the next day so the oil got to soak in to my dry hair.
Hugs H.H.
October 1, 2016
Sunlighten Solo Sauna - Best thing ever!
felt so great after!
Megan Alvanna Stimpfle
September 19, 2016
Hi Terry
After I got home yesterday I could tell my feet are doing really well. And after purely resting most of yesterday, when I got up to walk, my feet were still doing good. Usually after I had been lounging a lot, those first steps would hurt, but they didn't yesterday. It was a very pleasant feeling to have. I might have to have a weekly foot massage
Thank you for helping me get better!!
K.M.
July 16, 2016
Got a massage today, I loved it so much I asked for another half hour session. She had the time for it and gladly added another half hour! She had the quality and quantity. Thank you Terry!
Lonny Itegmigun Booshu
June 26, 2016
If you think your body feels amazing after doing Yoga then you need to go get yourself some T-Spheres!!! You won't believe how much MORE amazing your body will feel after doing your practice with T-Spheres! I don't think I'll ever do a practice without them! Go get some at Terry's Therapeutic Massage! Last night I fell asleep massaging my face with the smaller T-Spheres and this morning I woke up with one STILL in my hand. I slept so well.

Kalynna Booshu
June 25, 2016
Can I just say WOW?!
I have never felt so satisfied with my yoga practices until I used these T-Spheres!! Saying my back feels amazing, light and relieved is an understatement! I feel like I got a back massage WHILE doing yoga! I feel so great! I'm so glad you reached out to me! I never would have tried these
thank you!
Kalynna Booshu
June 17, 2016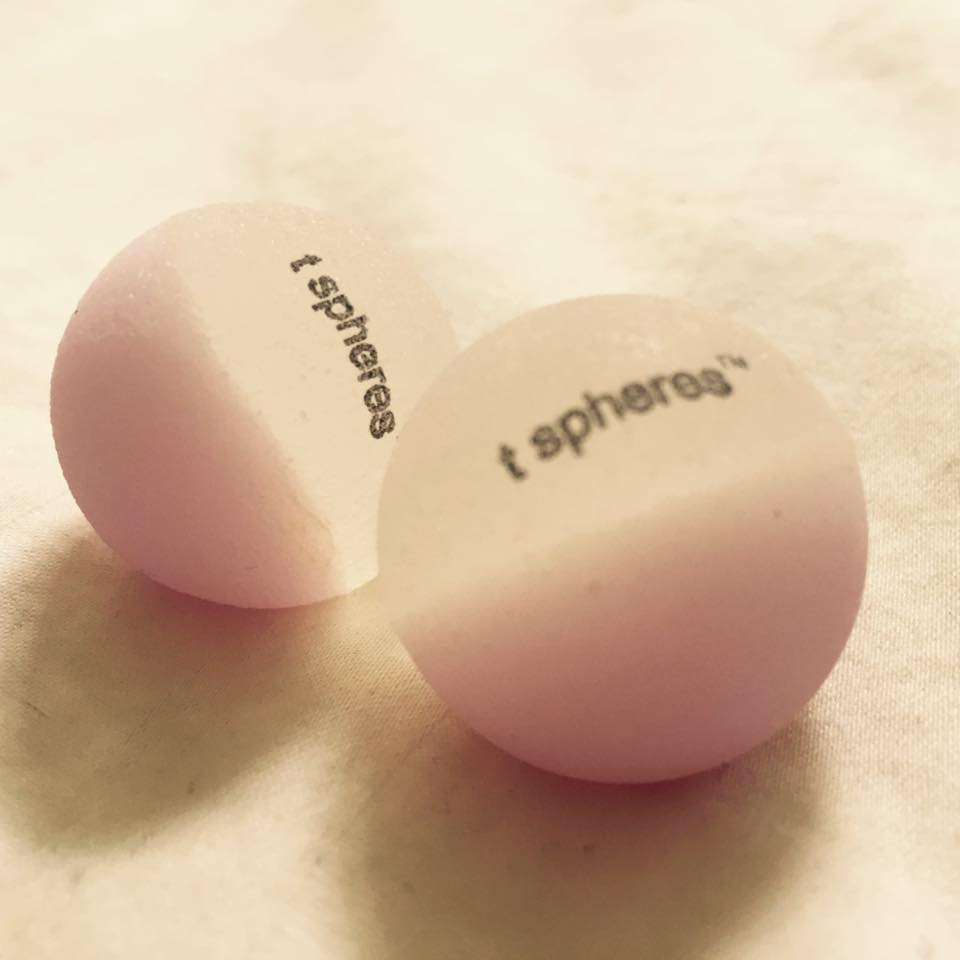 T spheres We
Terry's Therapeutic Massage and her dedication to helping her clients learn self care. She is currently our only certified T Spheres Spa and retailer in Alaska...not just Nome!
May 4, 2016
As soon as you park the cups on my back and shoulders the pain is instantly gone and I feel 20 years younger!
Thank you Terry..... Mike Tucker
April 30, 2016
Always a restful moment, thanks..... Janet
February 3, 2016
2 weeks ago I had the honour to certify the FIRST JOYA Practitioner in the USA, Terry Lawvor Miller from Alaska. Just reading the testimonials her clients provided I wished I could jump on her massage table ;o). Congratulations again, Terry. JOYA Gemstone Massage - The Unique Way To Relax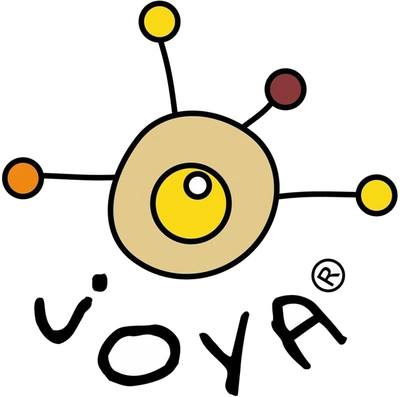 January 18, 2016
Terry's Therapeutic Massage and Organic Skin Care
Congratulations on being the FIRST Certified JOYA Crystal Massage Practitioner in the USA. Love what your volunteer-clients say about you and your treatments and I'm more than confident many more will come to experience this amazing modality! JOYA Gemstone Massage - The Unique Way To Relax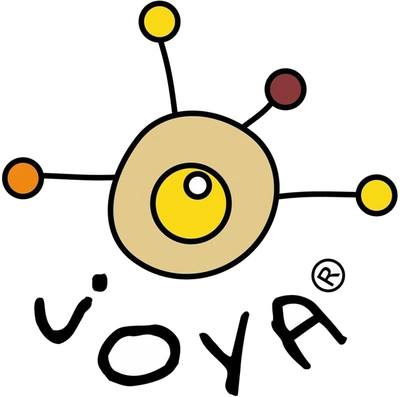 January 17, 2016
JOYA Crystal Massage - Case Study Volunteer
Terry Miller is a very conscientious and professional massage therapist. Terry checks frequently during the massage to ensure the pressure during the Joya Crystal was the most comfortable experience for me.
Prior to beginning, Terry fully explained the process and what to expect. Terry explained the crystals would feel cool at first and instructed me to provide feedback at anytime and she would accommodate my requests. There was no surprise as to what would occur. This was my first Joya Crystal massage and I felt it was a great experience. I felt relaxed and comfortable. I would purchase this modality in the future and recommend it and Terry. Please feel free to contact me if you have any questions.
Karen Mitchell, Nome, Alaska
January 13, 2016
JOYA Crystal Massage - Case Study Volunteer
I can verify that the JOYA Crystal Massage really works! In one session this method helped with my long standing lower back and shoulder pain. I will be back for another session soon. I was very delighted and thankful that Terry asked me to be a JOYA volunteer. I was allowed to choose the crystals (Clear Quartz) and had them warmed for my full body massage. As always Terry is conscientious of her procedures and her clients. I value Terry, her services and the clean, warm atmosphere of her massage studio as well as the training that she continues to seek in order to offer new procedures!
Mike Tucker, Nome, Alaska
December 27, 2015
Joya Crystal Massage - Case Study Volunteer
On December 27, 2015 I received one of Terry's amazing JOYA Crystal Massage's. It was done in a very professional setting done by a very professional masseuse. I don't live in Nome, but come back for the holidays and I will be going back for another session.
Jordan Miller, Anchorage, Alaska
December 21, 2015
On behalf of the NVFD, I'd like to thank you for your continuous donations for our annual Christmas party. It is much appreciated and not forgotten. Thank you and Happy Holidays!
Geoff Hubert
November 5, 2015
Hi Terry,
Just wanted to let you know, that I love ALL the products I got from you! They work great!
Thank you so much for your services!!
L.F.
October 7, 2015
Ladies please......or even husbands, get yourself or spouse a taste of paradise in Nome with a massage or sauna from this lady right there! Feeling stiff and tired? We'll treat yourself to a much deserved spa time. Simply amazing.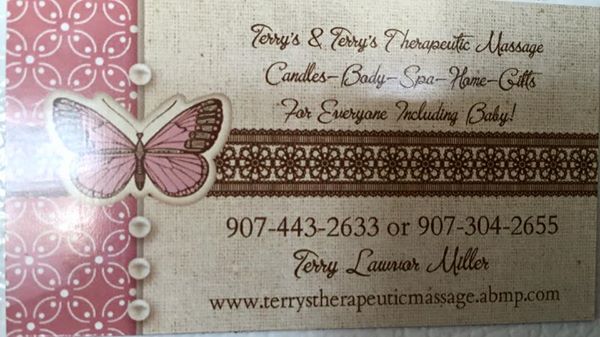 Dawn Miller - Himalayan Hot Salt Stone Massage
September 26, 2015
Thank you Terry! I haven't felt this relaxed in a very, very, long time!
B.R.
September 21, 2015
Terry thank you for recommending the Dead Sea Salt and Aromatherapy Bath! I bathed in the mixture that you suggested over the weekend and I am very happy to report that I no longer have sore inflamed joints and my stiffness and pain went away!
T.G.
September 9, 2015
Terry I am so very happy with the services you offer. I especially like that clients can tailor to our needs. Yippee...I love that I found your Reflexology package. Going to Love, Love, this. Thank you Terry's.
D.W.
August 31, 2015
Jasmin George's post to Terry's Therapeutic Massage via FB. "My new favorite place in Nome!
I highly recommend Terry's therapeutic massage if you haven't already gone there yet!"
August 17, 2015
Plant Therapy & Massage Cupping
Thanks Terry! That's some great stuff!
E.J.
August 2, 2015
Karen Mitchell's post to Terry's Therapeutic Massage via FB. "Had my 2nd massage with Terry and also tried the cupping. Folks you need to research massage and the many health benefits it provides. Massage isn't just time to relax and de-stress - but understand how massage releases toxins from your lymph glands. Terry is excellent and I strongly urge all of you to book your appointment today!!! I even decided to increase my visits with Terry to enjoy more healthy benefits. Feel free to share my reviews anytime and if you need to contact me, please do!" Karen
July 22, 2015
Sarah Dorsey's post to Terry's Therapeutic Massage via FB. "I'm so glad this is available in Nome! Terry gave a great massage. I will definitely be back. Thanks Terry!"
July 15, 2015
Ace Massage Cupping - Mike Tucker (Goog) post to Terry's Therapeutic Massage via FB. "Thanks again Terry! After 5 years of dealing with shoulder pain finally some relief! The cupping therapy is amazing!"
June 19, 2015
ACE Massage Cupping - Mike Tucker reviewed on FB (Terry's Therapeutic Massage) "The cupping was great! It did wonders for deep tissue in the shoulders! Gotta try it!"
June 18, 2015
ACE Massage Cupping - Carrie Murray reviewed on FB (Terry's Therapeutic Massage) "I can verify this works. In one session helped with long standing lower back pain. I will be back for another session soon. Thanks"
June 6, 2015
It's amazing! Definitely feel way more relaxed and my lower back feels much better.
Kailey Witrosky
June 1, 2015
Today I tried massage for the first time. It's was like having Sushi for the very first time and then wanting to try eggs! I am going to do this again.
W.G.
May 24, 2015
I really enjoyed my visit.
L.H.
April 27, 2015
Thank you so much for the relaxing massage and skin treatments. I will be back.
Carrie Murray
April 18, 2015
I felt great yesterday after my appointment!! I'd like to come and see you again soon and have you do the paraffin massage treatment on my neck. That seemed to have COMPLETELY taken away my mid-back pain!
L.F.
March 20, 2015
A big thank you to Terry's Therapeutic Massage in Nome for taking great care of Travis today. He worked his butt off to get that 11th place finish. We give our dogs massages, so we thought it only fair that Travis get one too!
Turning Heads Kennel, Seward Alaska
March 3, 2015
Not only did I get an awesome, much needed massage, she put essential oils in the massage and it did what it was suppose to. My finger had been hurting for about a month, she rubbed my hands and it hurt the first time but she continued and there was no more pain! I'm a believer now although I was hesitant, it sure worked, can't wait to become an oiler. And if you get a chance, get a massage at Terry's Massage Place here in Nome.
Dawn Miller
February 12, 2015
I can't think of any better gift for hardworking mothers then to be pampered by Terry's loving hands. Gift your mama today!
Sarah Hofstetter
January 10, 2015
Terry, I feel like a new woman! I was warm, comfortable, I feel asleep! I LOVE everything about your new studio, the water fall is awesome the Frankincense along with massage felt great!
Thank you,
H.K.
January 5, 2015
Thank you so much! The salve seems to really be helping. Today is the best I've felt in about a month. No swelling today. I can tell something is changing in my body too; I'm hoping the attack was temporary and is subsiding. Maybe the massage released a bunch of toxins too! I am feeling so good I plan to go walking on the treadmill at the rec center today.
M.B.
December 22, 2014
She loved it Terry! She loved the oils, she felt so relaxed after, and she said you were great! I called her right after and she was just like "OMG IM SO RELAXED!!! AND SHE'S SO NICE"!!!
K.K.
October 11, 2014
Terry, I don't know where the heck that hour went! I feel AMAZING, you have skills! Thanks!
M.M.
October 3, 2014
My second massage done today and I felt so much better afterwards! Will definitely get another, thanks Terry!
Dawn Miller
August 28, 2014
I received a 1 hour massage by Terry while I was 36-37 weeks pregnant and it was wonderful! I felt so relaxed and relieved of stress. I certainly will schedule another appointment for myself and my mother. Thanks to a friend for the massage coupon along with a $20 coupon and thank you Terry for the massage!
Marie Sookiayak
April 15, 2014
I got a 30 min head, neck and shoulder massage from Terry. It was wonderful!
Kiminaq Maddy
April 15, 2014
When I'm feeling tension from stress I book an appointment and I feel relieved after a 30 minute massage! Very soothing! Thank you Terry's & Terry's Therapeutic Massage!
Hattie Evilik
February 23, 2014
Terry, I am feeling much better. I was able to take a steam shower after you left and cleared a LARGE amount of mucous out of my sinus, and have NOT had to take any meds since then. Thank you so much, and I look forward to another session in the future.
S.H.
February 7, 2014
Upcycled heART Crayons
Terry, the shapes are so cute and smell yummy! My kids love them. When they are not coloring they are walking around smelling them!
Lori Hughes
January 17, 2014
Gold Fish Bath Bomb Fizzy & Mango Bath Melt
Terry, I just used the mango bath melt last night. I cut it into eighths size for their bath so that it wouldn't get to slippery for them. I didn't need to put any moisturizer on them after they bathed. Very good product and they love the little fish and watching the bomb fizzle. I think it was very exciting for them to watch it fizzle and the fish appear.
Katie Ellanna
December 7, 2013
Terry, thank you so much, I am glad I found your brochure! I really needed a little extra help being less tense. I'm a single mom & I value your talent. I could have fallen asleep....glad your here. Thanks again

M.A.
November 21, 2013
My 1/2 hour IHM, IFM & Aromatherapy Session with Terry was absolutely FANTASTIC. I was so relaxed that I caught myself drooling!
Jim Stimpfle
October 31, 2013
I went to Terry's Therapeutic Massage on Monday for a very relaxing head massage that included a calming face massage. Way to end a busy Monday! After I felt my stress relieved and head cleared smile

If you are interested in one too check out her website for more information.
Hattie Keller
May 24, 2013
Pat and I each experienced an Indian Head Champi Massage this day and it was wonderful! Terry is in training and we are her practice heads. Even Pat, after explaining to him that he didn't have to take off his clothes! Those who know Pat know that this is not the kind of thing that he would do. He really did enjoy it and I would recommend it.
Pat & Mary Straub