Eliminate stress and nurture your body and soul with a personalized session tailored to your specific needs. Terry's Therapeutic Massage facilitates the harmonious connection between body and mind, so that you can feel stronger, more relaxed and rejuvenated.

"Keeping your body healthy is an expression of gratitude to the whole cosmos – the trees, the
clouds, everything."
— Thich Nhat Hanh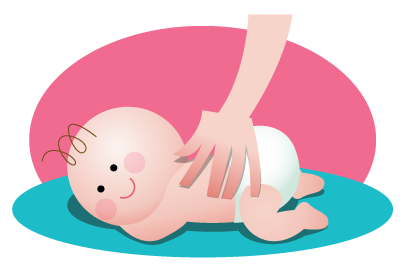 Infant Massage
Why is massage so important for babies and young children?
Massage has been shown to reduce stress and anxiety, reduce muscle tension and pain and increase feelings of well-being in adults – but is massage therapy just as effective for infants and children?
It turns out, it IS, and the benefits are pretty significant!
One of the most significant benefits for infants is improved sleep. Babies who received massage demonstrated improved sleep patterns, falling asleep more easily and staying asleep longer. They have also shown improved alertness and activity during the day resulting from the improvement in sleep.

Reduced stress behaviors have been noted in infants and young children who receive massage therapy, and studies have shown that cortisol levels were lower after receiving massage. Cortisol is a major hormone produced when we experience stress and causes inflammation throughout the body. Massage has previously been shown to reduce this stress hormone in adults, and has now been shown to reduce cortisol in children.

Infant massage has been shown to improve motor development, especially in premature infants and those who have developmental problems. Increased responsiveness was also noted.

Infant Massage Can:
1. Enhance blood circulation
2. Stimulate the nervous system
3. Promote relaxation
4. Decrease the production of stress hormones
5. Relieve discomfort associated with: Colic, Gas, Congestion, and Teething
The benefits of massage on both infants and their parents are overwhelmingly positive, with research indicating that infant massage is increasingly recognized as a legitimate health care treatment.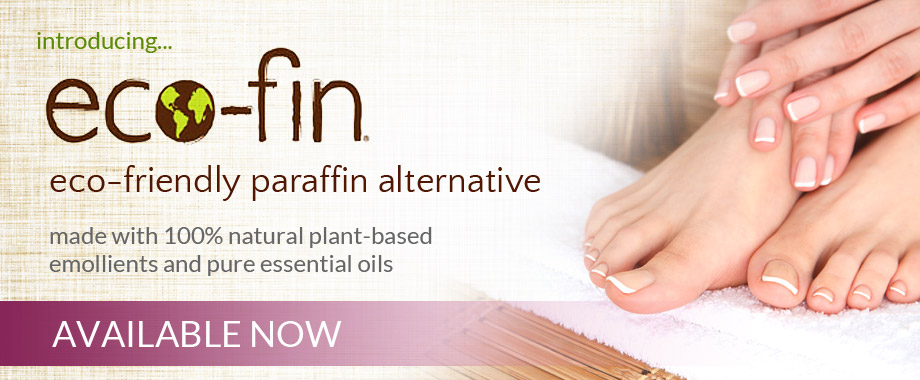 About Eco-Fin: Professional Paraffin Wax Alternative for Hand and Foot Treatments. Eco-Fin treatments are an alternative to our popular paraffin/parafango wax treatments for hydrating hands and feet. Unlike paraffin treatments there is no wax involved.
Eco-Fin Ingredients: Palm kernel oil, soy oil, shea butter, jojoba oil, vitamin E, organic coconut oil, essential oils and/or natural and organic aromas.
Benefits: 100% natural emollients and pure essential oils. Eco-friendly, people-friendly, 100% disposable and biodegradable, no petroleum products, no synthetic fragrances, no chemical dyes. Eco-Fin products are not only good for your skin, but for our environment too! With heat, Eco-Fin treatments deliver rich moisturizers that leave the skin soft and supple.
About Eco-Fin Finishing Spray: 100% natural finishing spray is excellent for use after Eco-Fin Treatments. It is refreshing and soothing. It contains organic aloe which provides nutritive vitamins, minerals, antioxidants, enzymes and amino acids to the skin.
Ingredients: 100% Organic Aloe, lonicera Japonica (Japanese Honeysuckle), Polyglyceryl Caprate.
Benefits: Provides a refreshing, soothing finish to Eco-Fin Treatments.
We are very excited to currently offer 10 distinctive, therapeutic and aromatic, Eco-Fin scents!
Jubilee / Berry Winter: Pine + Berries + Cedarwood + Rose + Cinnamon Blend
Happy: Raspberry - Grapefruit Blend
Muse: Cinnamon - Ginger Blend
Escape: Peppermint Essence
Shangri-La: Jasmine - Sandalwood Blend
Pleasure: Chocolate Essence
Dream: Vanilla Essence
Reverie: Lavender - Vanilla Blend
Retreat: Coconut - Pineapple Blend
Be Well: Green Tea - Aloe Blend
We currently offer Eco-Fin Treatments as an add-on enhancement service for hands or feet, or combined with a Blended Therapeutic Massage.
Close your eyes, take a deep breath, and let everything go. There's nothing like the power of a relaxing and indulgent massage to relieve stress and melt away tension.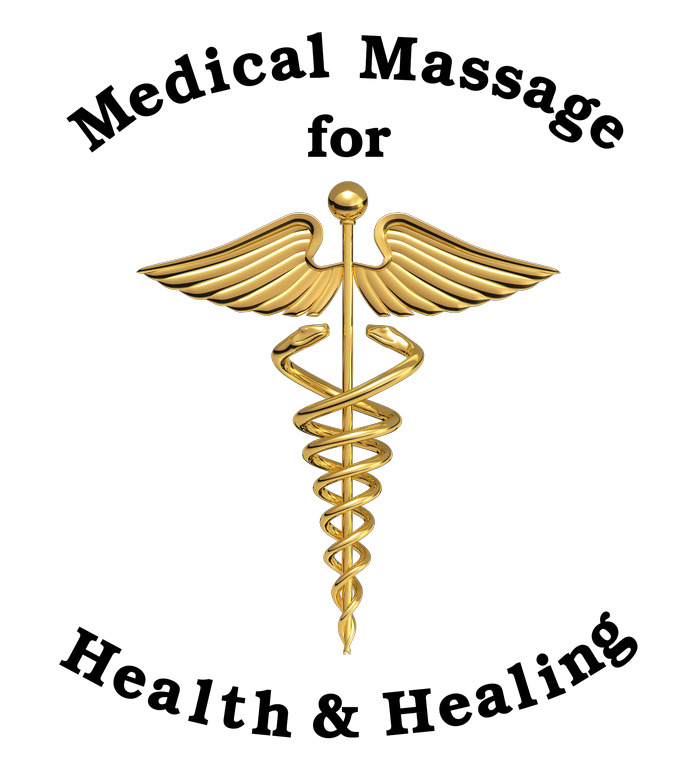 A results-oriented therapy, medical massage works toward resolving specific conditions, that a physician has diagnosed in a patient, or per patient request to only work on a specific area.
More a style than a set of techniques, our medical massage therapy employs a variety of therapeutic massage modalities, procedures, organic skin care, CBD analgesic infused massage oils, aromatherapy, and massage tools to treat the particular areas of a patient's body suffering from injury or pain. Our goal is to achieve the best possible health outcomes for our patients.
"All of the Professional Massages offered on our Menu of Services have Therapeutic Value."
Medical Massage Practitioner - Alaska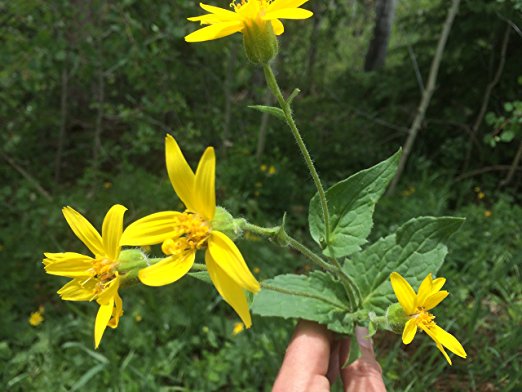 Royal Arnica Trauma Oil & Therapeutic Massage
Escape everyday stress with a warmed, mild and soothing, head to toe, Royal Arnica Trauma Oil, Therapeutic Massage, utilizing long fluid strokes (Swedish massage) to help promote a deep state of relaxation and well-being that helps to speed the healing of bruises and other body traumas while calming tension, agitation and supports the reduction of pain and inflammation while relieving muscle soreness/aches. Helps to relieve stress and increases circulation leaving you feeling refreshed and energized!
Clients report feeling calmer and more at ease by simply enjoying the aroma of this beautiful arrangement of essential oils.
Supports Accelerated Healing: Royal Arnica Oil helps to speed the healing of bruises and other body traumas while calming tension and agitation. This formula supports the reduction of pain and inflammation while relieving muscle soreness and aches.
ALL HEALING ARNICA PRODUCTS ARE NOT CREATED EQUALLY!
Super Premium Formula: While most Arnica oils on the market contain simply a small amount of Arnica oil and a large amount of some other base oil, this Royal Arnica Formula represents the finest blend of healing herbs, essential oils, and minerals available anywhere.
Supports Accelerated Healing: Royal Arnica Oil helps to speed the healing of bruises and other body traumas while calming tension and agitation. This formula supports the reduction of pain and inflammation while relieving muscle soreness and aches.
Superior Arnica: Instead of the commonly used Arnica Montana, this formula contains only seasonally hand-picked Telluride wild harvest Arnica Cordifolia (Heartleaf), harvested by hand in the Rocky Mountains (USA), which is widely considered to be a superior sub-species as it contains a higher concentration of plant alkaloids.
Hand Crafted: Immediately following harvest, the Arnica oils are extracted with high quality grain alcohol and organic olive oil. The oil is then aged in an Italian wine press before adding Vitamin E to preserve freshness. Medical grade essential oils of Frankincense and Myrrh are then added (traditional uses for wound healing and calming of spirit), followed by an exquisite Kashmiri Lavender essential oil (contains high levels of Linnalols which are known to calm tension, agitation, and nerve pain). Essential Oil of precious Helichrysum is then added (a superior anti-inflammatory in traditional medicine), then essential oils of Birch (contains salicylic acid, aka aspirin) and Wintergreen, Benzoin and Eucalyptus. Finished with a superior healing mineral blend of Copper, Hematite, Bloodstone, Tiger's Iron, Apatitie and Rose Quartz.
Note: All Essential Oils in this Royal Arnica Trauma Oil Formula Are Organic, Certified Organic, Or Wild Harvested.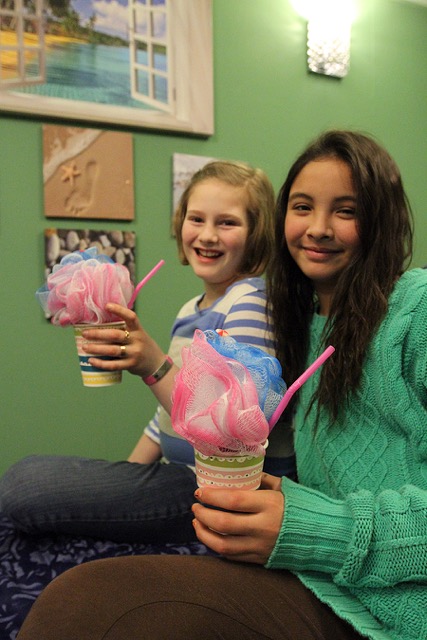 Kids, Tweens and Teens Spa Birthday Party
Looking for a unique and fun way to celebrate your little Diva's Birthday? Let us pamper your Princess and her friend to a luxury,
Lizzy Inspired Spa Day Birthday Party!
Book In for a Spa-tacular birthday party for two where we take care of the details. We do the set up, pampering and clean up and the girls will be
endlessly entertained from watching their friend and getting their own pampering done.
You're guaranteed to be the coolest mom/dad around!
This is a Fully Clothed, 1 Hour Session – Spa Gift Bags, a Small Treat, and Spa Water are Included!

Powder Massage - This medium is not common, but has a tradition of use in both Ayurvedic and reflexology and is formulated to perform a nourishing dry therapeutic body massage and act as a luscious all over body powder! Powders are not absorbed, so they can produce a long-lasting glide with a smooth, dry feel. Organic Herbal Powders are great for massaging areas prone to oil or perspiration, such as the scalp and feet.
It is also great to use on clients with combination or oily skin as it absorbs the natural sebum from the skin, rather than make the area worse with a cream or oil medium or for those that dislike the feel of other mediums.
We have a wide variety of Talc-Free Body Powders to Choose From! No Nasties, Good for all Skin Types, No need for an after treatment shower!



Nourishing, Hydrating, Cocoon Body Wraps
We offer a variety of signature massage and nourishing, hydrating, cocoon body wrap treatments that are a heady combination of cozy surrender and perfect escape, designed to deeply nourish and hydrate the skin, detox the body and utterly calm the mind. Select treatments begin with a gentle massage of exfoliation and hot towels to slough away any dead skin cells. An organic blend of NYR aromatherapy oils and butters are whipped into a light mousse designed to have a remedial effect on your skin. Allow your body to be covered in this nurturing elixir, before you are then swaddled within a cocooning wrap. This all-encompassing warmth relaxes and soothes the muscles and mind, and gentle sweating begins to cleanse your body and pores as you rest. A gentle therapeutic massage will slowly awaken you from your restful meditation.
ACE Massage Cupping™ Aromatherapy Cocoon for weight reduction, stop smoking and more. ACE Massage Cupping™ therapy for body treatments has yielded amazing results when combined with a simple Aromatherapy Cocoon for weight reduction, stop smoking and more. Adding Vacuum Therapies™ into a body treatment not only enhances absorption of applied products, but assists in the drainage of stagnant fluids. While it is not recommended to combine ACE Massage Cupping ™ with aggressive exfoliation treatments, it is easily integrated into most body treatment procedures.
Paraffin Cocoon Body Wrap - This treatment is one of the most effective methods of applying deep heat to relieve and soothe chronic joint pain, inflammation, relaxes stiff muscles, and improves blood flow to the treated areas. It increases range of motion for people with arthritis, bursitis and other chronic conditions that cause pain and stiffness. Paraffin Body Wrap treatments also soothe and moisturizes skin conditions, increases circulation, and has an anti-stress quality in it's relaxing effect. It can be helpful for chronic skin disorders such as eczema and psoriasis. Warm paraffin body wrap treatments are fast-acting, and drug-free! The soothing warmth of warm exfoliant, hot towels, creams/oils and the paraffin effectively melts away tension, relieves the body of minor aches and pains while leaving your skin silky smooth. Truly a unique experience you won't soon forget.
Body Luxe Hydrating Cocoon Wrap - A moisture-binding emollient for skin in need of deep, lasting hydration and protection, this unique new offering is used like a body mud. It intensifies hydration, enhances skin defenses, and moisturizes even the most damaged skin. Massage, hot towels, warm exfoliant and the rich, soft, warming balm uniquely melts on contact, leaving the skin perfectly hydrated!
Jasmine and Ylang Ylang Cocoon Body Wrap - Deeply nourishes and UPLIFTS
This treatment consists of a light body brushing that prepares your skin for a relaxing signature massage, and our luxurious cream infused with the heady, spirit-lifting scent of night-flowering jasmine and exotic organic ylang ylang, with creamy, conditioning Fairtrade organic honey and enriching Fairtrade apricot kernel oil, for velvety soft, decadently scented skin and then delicately cocooned in a thermal wrap! This treatment is excellent for replenishing dry or dulled skin.
"Dry Brushes are Complimentary"
Parafango Mud Cocoon Body Wrap - Parafango is a mixture, imported from Spain, of Volcanic Sea Mud and Paraffin. The Sea Mud is rich in minerals. In Italian, "Fango" means "Mud" a perfect combination for one's Wellness, Beauty and Health! The soothing warmth of the parafango effectively melts away tension, helps to reduce pain, beautifies skin from top to bottom, moisturizes, purifies, fight cellulite, drain liquids, detoxifying,
re-mineralizing, and improves the venous system, circulatory and lymphatic.
It all begins with a moisturizing veil of exfoliant, hot towels and organic lotions and oils that are massaged into the body from head to toe. Then from your shoulders to your ankles, we apply our special parafango mud and wrap you up in a warm thermal blanket. Just like paraffin wax, parafango mud is an excellent way to apply deep, yet gentle heat to skin. As you enjoy the relaxing sensation of this gradual heat, your pores slowly dilate, allowing the mud's natural minerals to draw toxins and other residues out of your cells. While you enjoy the purifying powers of this treatment, a facial and scalp massage treat you so your face will feel just as soft and renewed as the rest of your body.
Of course, every client's experience is unique and special, so the best way for you to understand the powers of parafango mud is to schedule your own treatment at Terry's Therapeutic Massage. Ready to experience the magic for yourself? Call us or book your session today!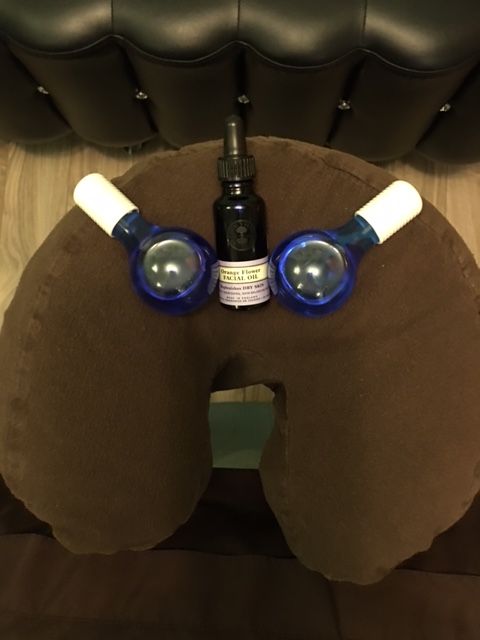 Ice Globe Facial Massage!!
Ice Globe Facial Massage is a natural alternative to a surgical face-lift or chemical treatment. It can help reduce wrinkles, help tone your facial muscles, reduce the amount of puffiness under your eyes, and define your jaw line, help with sinus, headaches, puffiness and much more! Ice Globe Facial Massage can literally give you a face lift by improving the blood circulation to your facial muscles, as well as many other therapeutic benefits! Ice Globe Facial Massage treatments are safe, gentle and relaxing! This treatment also allows your expensive creams and serums to penetrate and be absorbed better through the skin for longer lasting results. Indian Head Champi, Hand Massage, and Certified Organic Aromatherapy Skin Care Products are also included in your treatment, or Choose our Ice Globes as an Add-On to any service. (Beautiful therapeutic results with no drippy, melting mess.)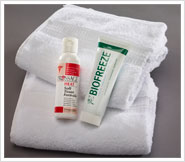 BIOFREEZE® Pain Relieving Sole Refresher Featuring Biofreeze® Pain Reliever and Prossage Heat®
The Biofreeze Pain Relieving Sole Refresher is solely about overworked and tired feet and legs! Your feet and legs will be treated to warm towels and a warming foot and leg massage using PROSSAGE Heat, a special warming ointment to help relaxation for a slower and more beneficial massage that helps reduce aches and pains in your feet and legs. An application of BIOFREEZE pain relieving cooling gel completes this service to leave feet and legs with a fresh cooling effect that helps reduce pain and soreness. The Sole Refresher will leave feet and mind in a blissful refreshed state!
Benefits: For tired and aching feet, Reduces pain and discomfort in the feet and legs, Increase circulation, Over all invigorating feeling.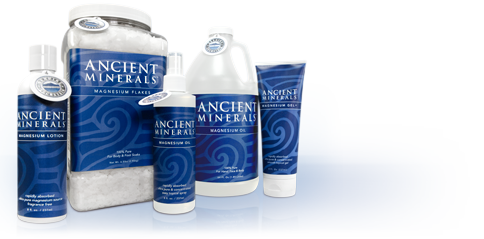 Ancient Minerals Transdermal Magnesium: Due to client request, Ancient Minerals brand Ultra Pure Topical Magnesium in the form of oil, lotion and gel is available to those with specific needs.
Ancient Minerals Transdermal Magnesium provides a pure form of supplementation that by passes the digestive system and absorbs directly via the skin. The high quality Pharmaceutical Grade Magnesium Chloride is derived with the latest technology from a natural environment and comes from the Ancient Zechstein Seabed in Europe, 1600 to 2000 meters deep in the layers of the earth, well protected for the last 250.000.000 years.
Benefits of Transdermal Magnesium: Transdermal magnesium is a powerful tool in the battle against magnesium deficiency. Benefits reported by those who use transdermal applications of magnesium relate specifically to its therapeutic application on the skin and its direct absorption into the cells: Increased sleep, reduced muscle aches, pains, cramping and spasms, healthy skin and reduced outbreaks of eczema and psoriasis, better relaxation and stress management, increased energy levels, improved moods and increased athletic performance.
Learn more about the Ancient Minerals evolution.

JOYA Crystal Massage & JOYA Crystal Brushing - Combining the many benefits of hot or cold stone massage with the amazing healing properties of natural crystals, the JOYA Massage Roller glides over the skin/clothing like hands, navigating its way along tense muscles bringing soothing head to toe relief! For tension of all kinds, muscle hangover, stress symptoms, aching feet, painful joints or simply for enhancing the blood circulation a JOYA Massage can be relaxing or energizing, bringing well-being to one's body and soul.
JOYA Crystal Brush - Combines the ancient Ayurvedic technique of Dry Body Brushing with the benefits of crystal massage. Stimulating the lymphatic system aids in effective detoxification and increased well being. The invigorating Body Brushing boosts circulation, reduces cellulite,
while the exfoliation promotes glowing and tighter skin.
http://www.joya-australia.com.au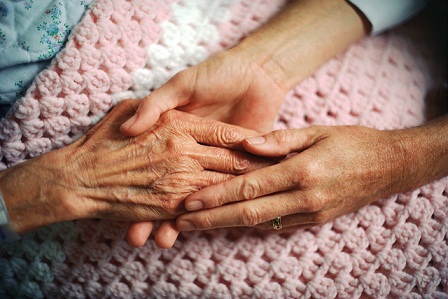 Senior - Geriatric Massage Therapy - Seniors are especially appreciative of the benefits of massage, and can now enjoy them more with our Senior Discount! Anyone 65 years and older will receive a $15 discount. This type of massage for our Seniors uses gentle and light application of massage techniques and can include passive stretching and a light oil or lotion to permit muscles to be worked on without causing excessive friction to the skin. These techniques can help enhance blood ciculation, combat depression, improve balance and flexibility, reduce the pain of arthritis, increase joint mobility, improve posture, and encourage overall well-being.
Senior - Geriatric Massage can be especially helpful for maintaining and improving overall health as we age. It also has been shown to relieve anxiety and provide comfort, especially to touch-deprived elderly clients.
Helpful Wellness Tip: Clients are welcomed to have a friend or family member join them for their visits to ensure they have a comfortable and relaxing experience. You may decide what amount of clothing you pefer to wear during your massage. Throughout the session, you will be properly draped or covered. Only the area being worked on will be exposed. For our clients safety and comfort we offer a variety of comforting and therapeutic options including a warm, pneumatic tilt massage table!
​​​​​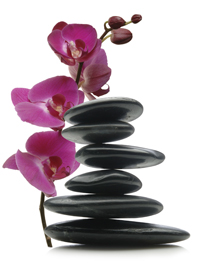 Hot Stone Massage consists of traditional massage techniques with the incorporation of therapeutic heat through warmed stones. The temperature aids in the healing process much like hot pads do. In addition each stroke with a massage stone is 10 times more effective than a traditional stroke. Basalt massage stones are used, as the minerals in basalt absorb and retain heat the longest of any type of massage stone. Hot Stone Massage is a deeply soothing, relaxing form of massage. The heat from the stones helps tight muscles release. This ancient practice has recently been revived, and is growing in popularity as a form of massage therapy across the world.
How Hot Stones Work - There are two ways to use heated stones in a massage. The first way is to use them as stationary placement stones to warm the tissues. This brings the client's attention to the warmed body part, and has a calming effect on their mind. Tension is melted away with the liquid heat sensation from the warmed stones. The second way to use hot stones in massage is to massage the clients with them. The heat of the hot stones warms and relaxes the muscles very quickly and easily. This allows massage therapists to access deeper tissues in a shorter amount of time and with less effort than conventional massage therapy. Hot stones are unique in that they add grounding and balancing elements to your massage. Heated massage stones energize the practitioner, and relax the client at the same time.
What is Basalt, and Why is it so Good for Hot Stone Massage? Basalt is a type of igneous rock that is formed from cooled molten lava. It is grey in color. Basalt is known for its superior heat retention characteristics. Mono-colored dark basalt stones are said to hold heat the longest. Basalt lava rocks come in various shades of grey, and quickly turn a beautiful dark lustrous black when wetted with water or massage oil.

Warm Bamboo Massage Therapy is done with a hollow organically-treated bamboo cane of different lengths and diameters, which is warmed. The massage ensures circulation, sensory nerve perception and provides a deep sense of relaxation and serenity.
Known for it's healing properties, this massage works at all levels to balance, calm and energize you physically, mentally and spiritually. Stimulation of the tissue by the bamboo stick helps in getting relief by dissipating the heat that results from an accumulation of toxins and poor circulation. The muscle is then kneaded, which assists in the release of tension and easing knots. Bamboo massage therapy is also used as a powerful preventative therapy against modern-day stress and to aid relief from many physical and emotional problems. Apart from relieving you of stress and tension, bamboo massage is also known to improve the texture of your skin.
Bamboo is considered to be one of the most multifaceted plants on earth and has earned it's reputation from it's holistic and soft appearance, as well as it's perseverance under harsh conditions. Known to symbolize strength, fertility, youth and prosperity and peace in the Orient, this plant has become one of the most coveted beauty ingredients of recent times.
Heated Bamboo Massage is for anyone wanting a relaxing and luxurious spa massage or for anyone who needs some serious deep-tissue bodywork for overworked and injured muscles. If you are looking for a rejuvenating massage treatment, there is nothing better than bamboo massage therapy.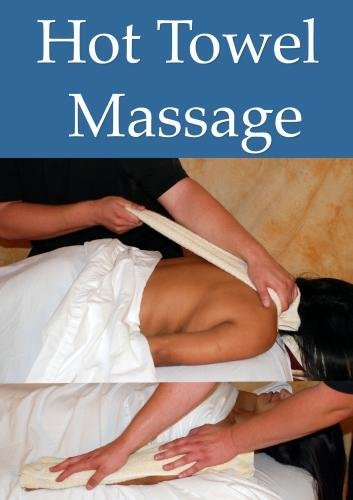 Hot Towel Massage Therapy consists of using hot, moist towels, also known as hydro thermal therapy, can help tight muscles to relax, soothes irritated nerve endings and increases circulation. Therapists can achieve more results during a limited treatment session period by applying hot, moist towels to one area of the patient's body while manually massaging other areas, then switching as needed. Hot towels can be used in areas that would be unable to tolerate the pressure and friction common to manual massage, and the use of moist heat is recommended by the Arthritis Foundation to help relax muscles and increase circulation in areas made tender by that condition.
In addition to your Hot Towel Massage you can add on a Salt or Sugar Scrub Back/Feet Treatment, Terry's signature salt scrub contains the perfect blend of dead sea salts, sugars, selected oils and essential oils that exfoliate and cleanse without irritating the skin. This treatment targets the back and/or feet, which is difficult to exfoliate by yourself. Your skin will feel soft and supple!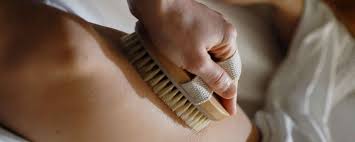 Dry Skin Brushing is a simple treatment that invigorates all major systems of the body including the lymph, circulatory, nervous and digestive, as well as, stimulates all the major organs. This gentle form of massage encourages the skin to eliminate toxins by dramatically increasing blood flow to the surface.
Dry Skin Brushing exfoliates dead skin cells while reducing the appearance of cellulite, as well as, toning and tightening the skin leaving it wonderfully soft to the touch. This amazing health and beauty routine has been practiced for years in Eastern Medicine and is used in world class spas, holistic healing centers and most recently cancer treatment clinics all over the globe.
This add on treatment is completed with a light relaxation massage of one's choice along with warmed natural organic oils/lotions. "Personal Dry Skin Brushes Are Complimentary"

Indian Head Champi is the ancient Indian practice of champi, also known as champissage. Indian head massage is based on the Ayurvedic system of healing. It is a combination of ancient techniques and modern awareness with a focus on massaging areas close to the central nervous system including the scalp, neck, shoulders, arms and face, with aims of relieving tension, stimulating circulation and restoring joint movement. The process releases endorphins and shifts body energies by stimulating chakras.
The goal is to clear blocks in these energy channels that cause a build-up of negative energy believed to cause ailments. Stress causes stiffness and tension in the neck, upper back and shoulders. Indian Head Champi helps relieve this tension via gentle manipulation of the muscle groups involved. As well as the physical stimulation, Indian Head Champi also has a profound calming effect on the mind, leaving the client with a feeling of inner focus and well-being.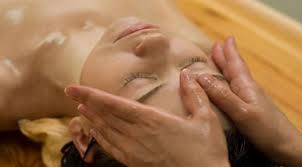 Indian Face Massage is a form of facial rejuvenation. It gives a natural facelift through massage designed to be a gentle non-invasive approach to looking younger. The massage works primarily by freeing constrictions both within the facial muscles and in the connective tissue. Tension can build up within our facial muscles from the pressures of everyday life, without us realizing it. Certain thoughts and emotions become habitual, locking themselves into the expressions on our faces. Under such conditions muscles can actually dry up and contract, inhibiting freedom of expression, encouraging ageing and the formation of wrinkles, the face loses its muscle tone and elasticity and begins to sag.
No expensive equipment or products are needed for this facial massage. The massage itself is performed by using repetitive movements across the face using the fingertips. Not only is it relaxing and calming but it also reduces lines, tightens the skin, increases skin elasticity, promotes blood flow to the face and leaves the recipient feeling contented.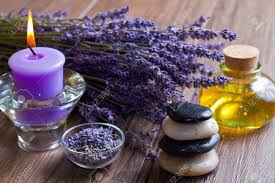 Aromatherapy is a holistic hands-on therapy which promotes a physical, spiritual, emotional and mental sense of harmony. It is an entirely relaxing massage treatment that uses the essences from plants to help balance and unify the mind, body and spirit; which has proved to be highly successful in the alleviation and cure of many ailments.
Aromatherapy works in two ways - the widely accepted benefits of massage and the inhalation of essential oils reduce stress and improve the general state of health and well-being. This is a comforting, reassuring and healing therapy.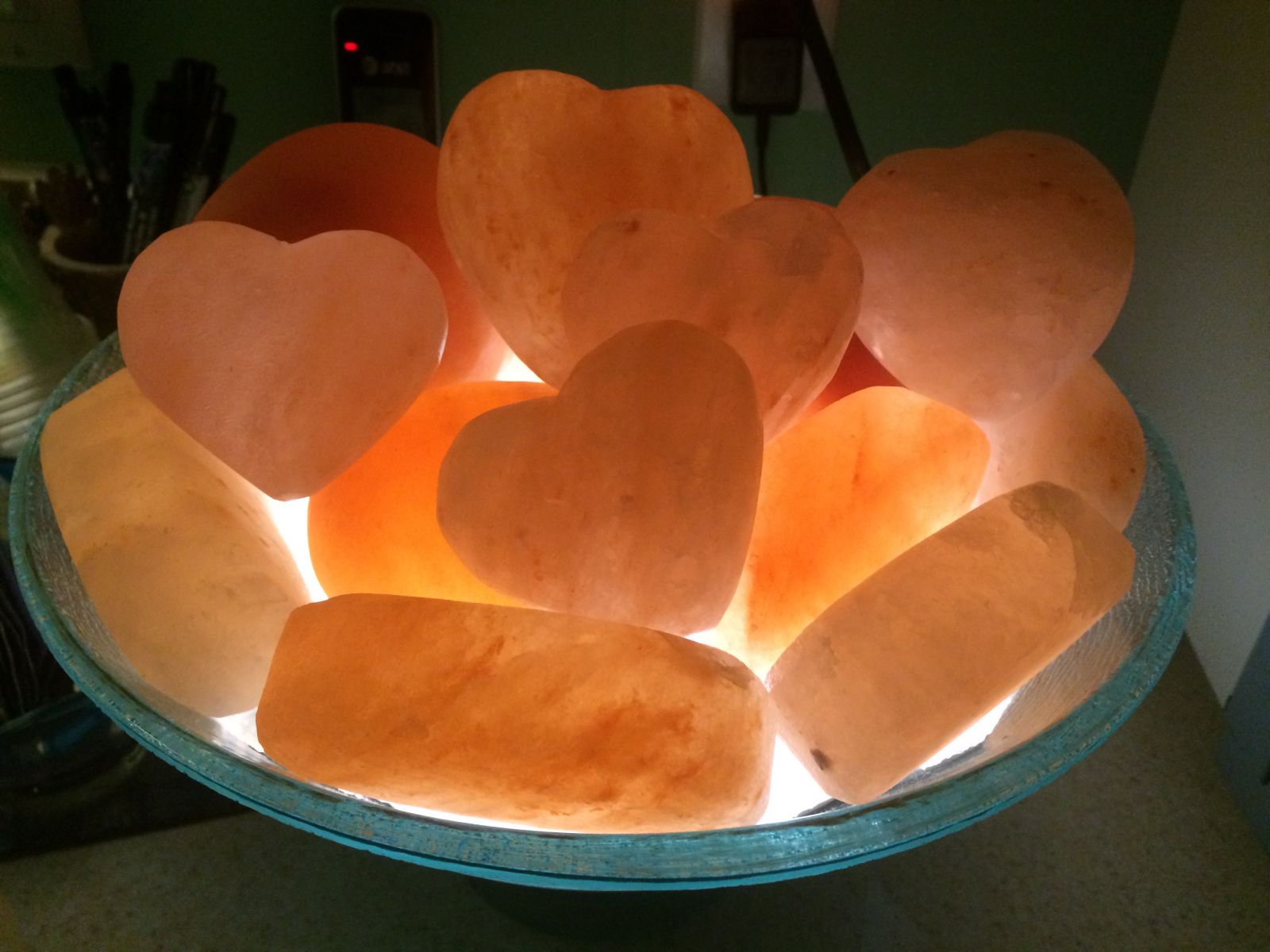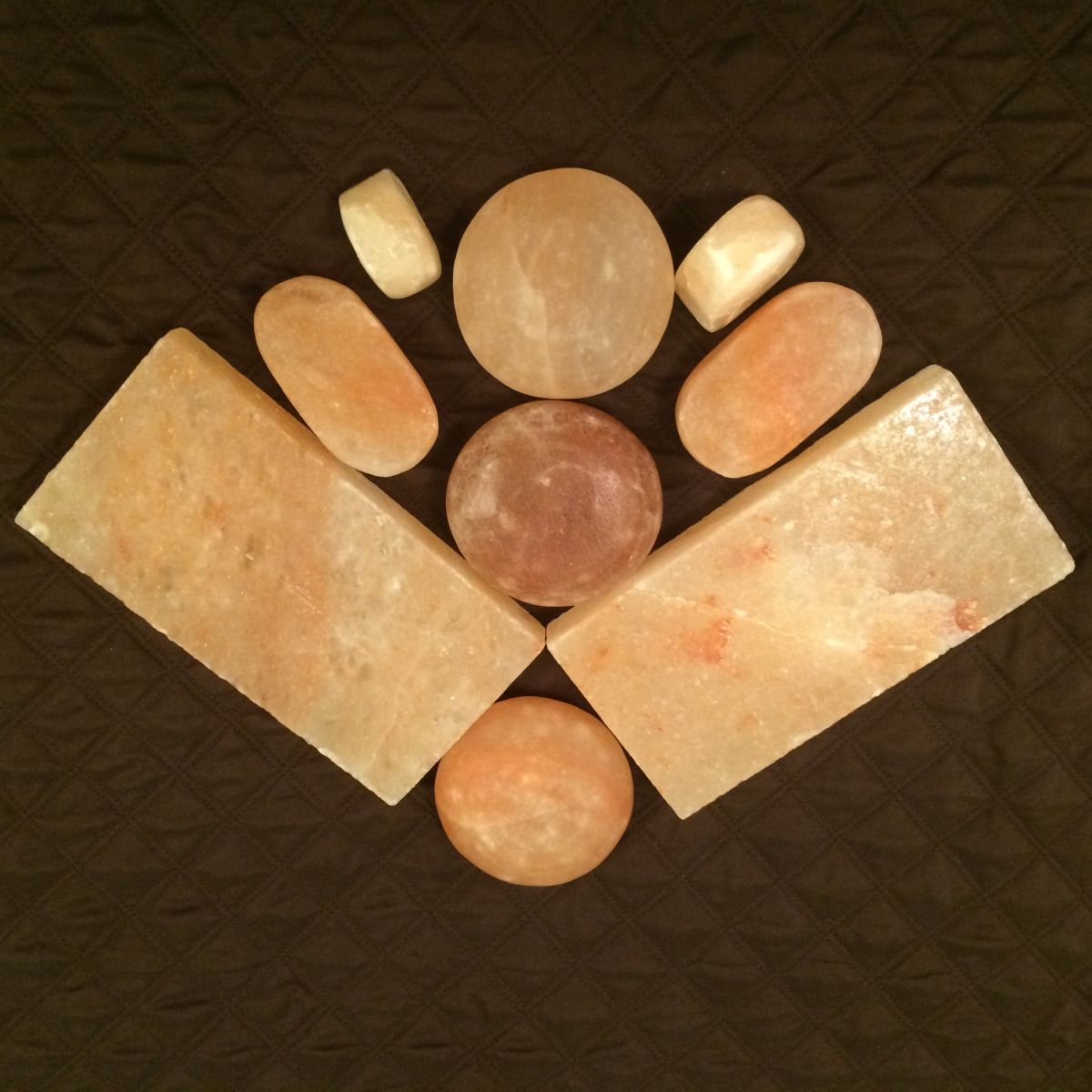 Himalayan Salt Stone Massage relaxes as it balances the central nervous system. It uses hand carved salt crystals from one of the most pristine environments in the world, salt caves deep below the Himalayan Mountains. This therapeutic massage treatment combines a full head to toe blended therapeutic massage, including Swedish massage techniques, thermal therapy, salt therapy, reflexology, aromatherapy, and Traditional Chinese Medicine. The salt stones are warmed in a beautiful "Green" Himalayan Salt Massage Stone Warmer and are used on strategic points and in specific combinations to balance the body's energy pathways and electromagnetic field. The results produce a very deep relaxation, improved sleep and reduced inflammation in addition to mild detoxification and exfoliation.
The Himalayas are the world's most tranquil, serene, peaceful and undeveloped region; therefore the salt crystals mined from the foothills of the Himalayas are still pure and untouched by pollution. Tremendous pressure and heat refines the structure of the salt crystals and makes them translucent. When mining the salt at the Himalayas, use of dynamite is strictly prohibited to preserve the structure of the crystals. Mining by hand is painstaking but essential. All Himalayan salt stone massage salt is handpicked with care, keeping the valuable crystal structure intact.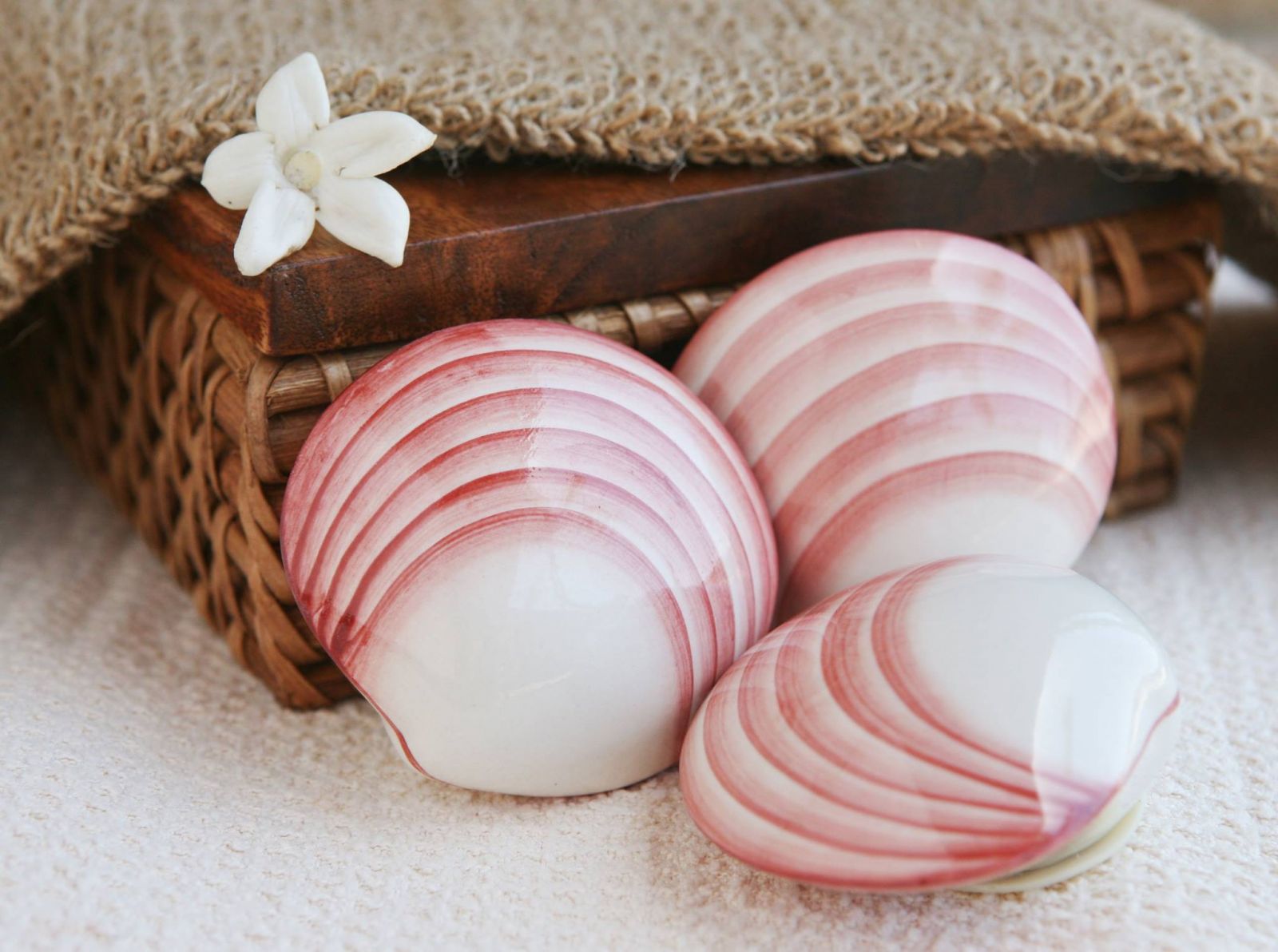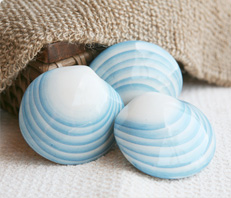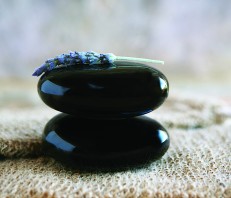 Natural Hot Lava Shell Massage - Lava shells are the world's first self-heating massage tool, each shell is completely 100% natural. They are genuine tiger clam shells found in villages in the Philippines. The tiger clams are collected for seafood and the shells were then discarded.
Today the lava shells not only provide food but also jobs for the local industry on the island. The locals prepare the shell for use in massage by sand polishing them. The end results produce beautiful shells for massage.
Natural ingredients such as marine algae, lavender, lava rock, lava gel, magnesium and iron are used in the patented self-heating technology where the natural minerals are activated by salt water and essential oils. The shells stay hot for the length of the massage giving continuity to your treatment.
Who benefits from this massage? Anyone who enjoys and needs deep relaxation, if you want sports therapy, or have aches and pains,
the warmth is beneficial if you have menstrual cramps, if you have digestive problems, anybody who feels the cold generally, if you are feeling depressed, anybody who is stressed, lethargic and run-down.
Glacial & Hot Lava Shell Massage, a Natural "Green" synergy of ocean inspired elements, a twist on a hot stone or warm bamboo massage, while keeping in tune with our surroundings the Bering Sea!
Lava Shell combines minerals, dried sea kelp, and algae to create the ultimate hot and cold therapy! A combined Lava Shell and Glacial Shell massage treatment allows deep muscle work, releases tension and leaves you feeling stress free. The specific massage techniques target trigger points in muscles which can be responsible for tension and referred pain.
The treatment leaves you feeling invigorated, muscles are more relaxed and aches and pains can be significantly reduced. Glacial Shell massage helps to release the mind of anxiety and trauma and lets you "chill out," literally! Once you have this treatment you will know what all the fuss is about!!
Self-Heating Hot Stone Massage Benefits - Stressed to Relaxed in 10 Minutes!
Self-Heating Hot Stones use no electricity and heat naturally using all natural minerals activated by salt water. Created from a blend of real seashells, black lava rock, and porcelain.
Hot stone massage therapy is a popular treatment for promoting deeper muscle relaxation, improving circulation, managing stress, and allowing for better sleep. The premise behind hot stone massage is that the direct heat of the stones allows the therapist to penetrate deeper into muscle layers, release tension, ease sore muscles, and promote relaxation.
Self-heating hot stones, are used to employ a customized massage versus placement therapy, customary with traditional basalt hot stones. The use of hot stones will offer enhanced benefits to both the client and therapist. For clients that suffer from the ailments of fibromyalgia, arthritis, and carpal tunnel, hot stone therapy can be a useful treatment in decreasing pain and muscle spasms, curbing chronic stress and tension, and allowing for better mobility.
Therapists will also reap the benefits of hot stones. The heat will help make muscles pliable, ultimately allowing for deeper manipulation. The therapist is able to use the stone as an extension of their hand, giving their own hands and wrists a well needed rest.
Pre-treating muscles with self-heating hot stones is an ideal way to take you from stressed to relaxed in a matter of only minutes!
https://www.sparevolutions.com/locate/?region=USA&state=AK

Oncology Massage as a part of a Team Management Program is a wonderful gift of comforting touch for those suffering or recovering from the effect of cancer treatments such as chemotherapy and radiation.
This massage is performed with the awareness of how cancer affects the body's cells and the impacts that cancer and massage can have on the body. Whether to reduce anxiety before an upcoming medical procedure, to help control nausea related to chemotherapy, or to diminish cancer or treatment related pain, oncology massage offers many options for the cancer patient.
For an oncology massage, it is not necessary for you to move if it causes discomfort or if it is not appropriate for your current health condition.
If you or someone you love is living with cancer, consider massage as a therapeutic, nurturing choice to help navigate this difficult journey.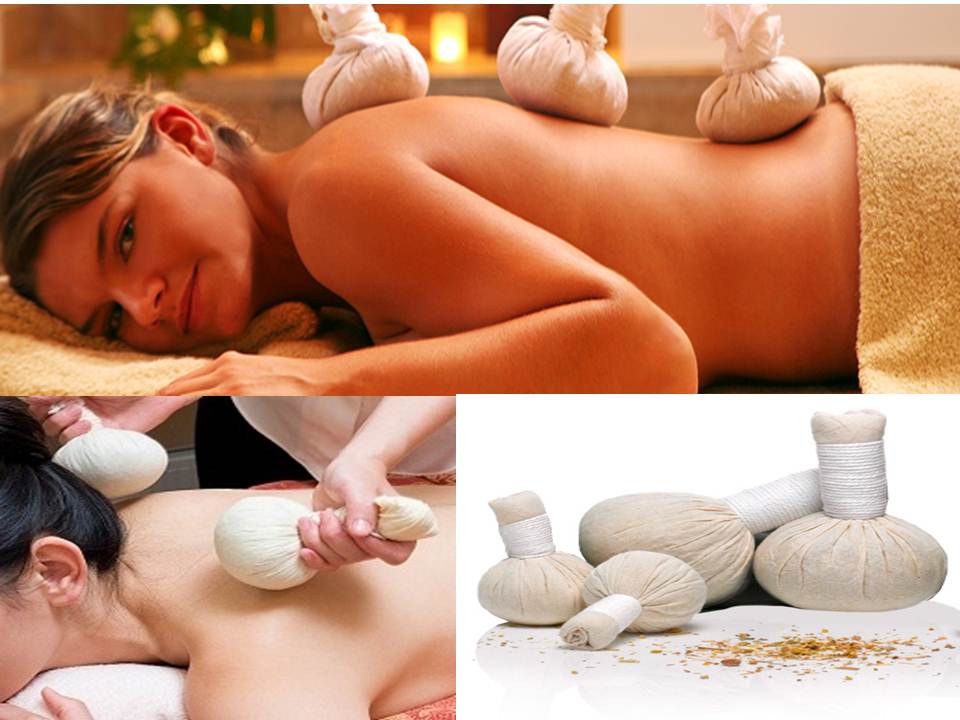 Thai Herbal Ball Massage combines the benefits of classic Swedish massage, Indian Head Champi, Indian Face Massage and Aromatherapy Massage, with the healing powers of heat provided by a Thai herbal ball/compress. Thermotherapy and compression are fused to alleviate muscle soreness and myofascial pain in sensitive areas. The Thai herbal ball is rolled across trigger points and isolated muscle groups of the body while steam promotes muscle relaxation and increased body energy. The heated ball compresses tight or stiff muscles to allow for greater movement and flexibility of both the muscles and joints, while the herbs work to open airways and rejuvenate the senses.
Thai Herbal Ball/Compresses contain Certified Organic Herbs and Spices. The herbs and spices are grown and hand made by a small business owner/farmer and his family from Thailand and then sent directly to Terry's!
Thai Herbal Ball Ingredients: Kaffir Lime, Zingiber Cassumnar (Plai), Cyrcuma Longa (Tumeric), Languas Galanga (Galangal), Cinnamonum Camphora, Cyyptolepis Buchanani Roem. & Schultz (Campor), Lemongrass, Eucalyptus, Crinum Asiaticum Linn, Bauhinia Malabarica Roxb, Acia Concinna (Wild.) DC, Cassia Alata Linn. (Golden Bush), Pandanus Odorus Ridl, Niebuhria Siamensis Kurz.
"Personal Thai Herbal Balls Are Complimentary" Each ball can be added to a bath or whirlpool to create a unique Thai experience at home.

Pure Light Massage Flame Candle Massage, The Latest Craze! Can you massage with a candle? Yes, you can! Each candle is therapeutically infused with organic essential oils and organic coconut wax that acts as a hot oil massage lotion when melted.
Flame Massage Candles are made with eco-friendly re-useable glass, no synthetics, dyes or lead. A truly unique, unforgettable and scent-ual experience which leaves your skin silky smooth. With a choice of 12 delicious scents featuring all natural organic plant aromas. There is a scent to surely please everyone.
BLISS - Raspberry/Grapefruit
A fun, euphoric blend of raspberry & grapefruit bolsters confidence, increases circulation, stimulates lymphatic system, & eases muscle fatigue & stiffness. (Antioxidant)Raspberry Grapefruit.
CITRUS - Sweet Orange
Refreshing and inspiring, sweet orange harmonizes your mind & body, increasing energy, and promoting positive wellbeing!

CREME - Vanilla
Silky, smooth vanilla comforts the psyche, arouses desire, and calms anxiety. A luxurious antioxidant for your skin.
DESIRE - Chocolate
Indulge your craving! This decadent chocolate is filled with anti-oxidants and rich emollients promising to leave your skin soft and silky smooth.
FIRE - Rosemary
This powerful blend, infused with rosemary, eucalyptus, and mint, provides a highly therapeutic experience. Encourage circulation, relieve pain, fatigue, and congestion, and boost your immune system, as it penetrates deep into your tissues.
FLORA - Jasmine
This light, sweet floral calms and soothes tired skin, eases depression, and promotes a happy heart! Arouses compassion, forgiveness and joy!
ICE - Peppermint
Cooling and stimulating, peppermint soothes and relaxes both head and muscle aches. Aids in digestion and inflammation.
TRANQUILITY - Lavender
Soothing, relaxing, and balancing. Allow lavender to heal all that ails you. Reduces inflammation, calms insomnia, eases aches and pains, and improves balance & mood.
TROPICS - Pina colada
A gorgeous tropical holiday awaits as this fun, flirty blend of pina colada banishes dry skin and sweeps you away to a serene paradise all your own.
HARMONY - A comfortable favorite, sure to put a smile on your face. Let the natural symphony of rich almonds and sweet honey; create a serene melody in your soul.
SAMBA - A juicy infusion sure to create a tantalizing energy in your soul. Sun kissed fruit,layered with smooth and creamy goodness, promising moisturizing benefits to all skin types.
TIMBER - The Gentleman. This handsome blend is driven by a desire to unwind and enjoy the simple pleasures in life. Let the rich sandalwood base allow you to escape the world and slip into total relaxation. Calming, centering, sensual.
"Personal Massage Candles Are Complimentary"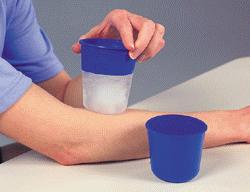 Ice Massage is the local application of ice to a portion of the body or face. During ice massage, blood flow to the body part is decreased at first, but then increased. Ice massage is an effective therapeutic massage procedure to help relieve acute or chronic pain, inflammation and post-surgical pain swelling. Ice massage affects your body in numerous ways, including reducing blood flow to the area of injury, which reduces swelling. Ice massage acts as an analgesic or pain-reliever by numbing tissues, reducing muscle spasms and slowing tissue metabolism. Because ice massage helps reduce swelling, inflammation and pain, it's the preferred modality for acute musculoskeletal injuries, such as ligament sprains, muscle strains, joint subluxations and dislocations, bruises, fractures, and clients suffering from bursitis as well as an excellent treatment for headaches, and many other benefits.
Ice Facial, skin smoother, pore primer, improves circulation, relief for puffy eyes, wrinkle buster and blemish control.
For additional skin benefits, ice can be infused with skin-loving ingredients depending on your skin care needs.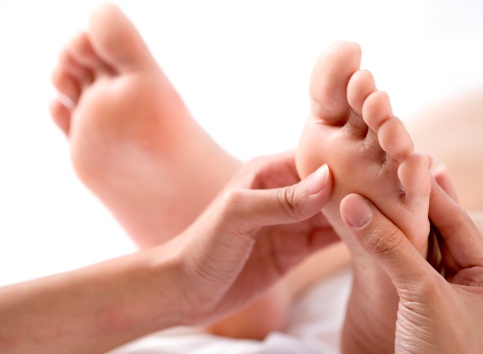 Feet Treat, have your tired achy feet exfoliated with an invigorating foot scrub and then moisturized with an invigorating foot balm. This foot relief session also includes therapeutic massage and hot towel treatment or how about a Reflexology Treatment for your hands and feet with the use of additional massage hand/feet massage tools and warmed stones!!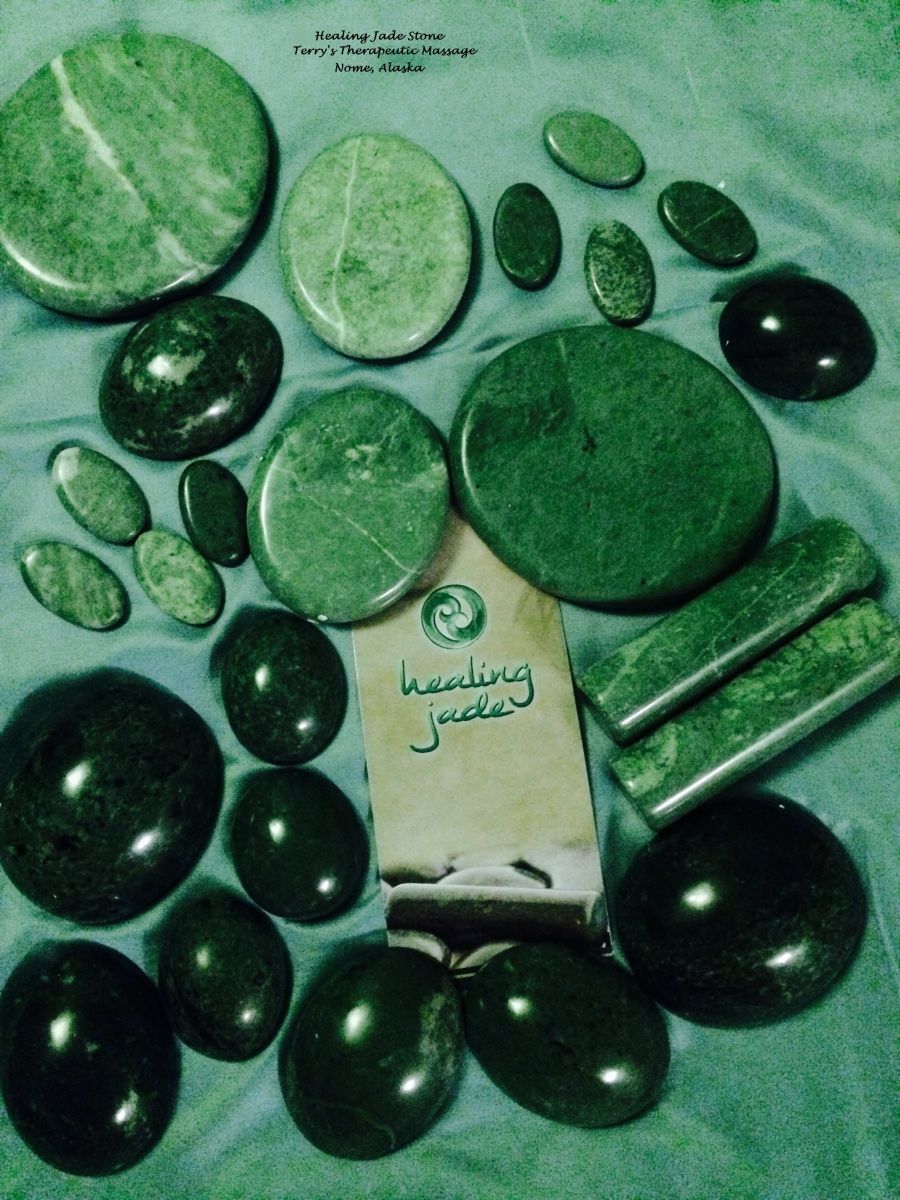 Jade Stone Massage, does our inclement weather have you feeling a little jaded? Harness the power of a Jade Stone Massage. Jade is known for having healing properties that relax the nervous system and aids in removal of toxins. Your body will be massaged using real Jade Stones in alternating temperatures. Because of Jade's composition of iron, magnesium and calcium, it's the only massage stone that can hold both heat and cold equally well. This combination therapy acts much like a vascular flush, helping to eliminate toxins from the body and reducing inflammation. Come enjoy the experience of Jade Massage!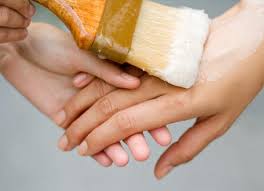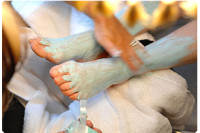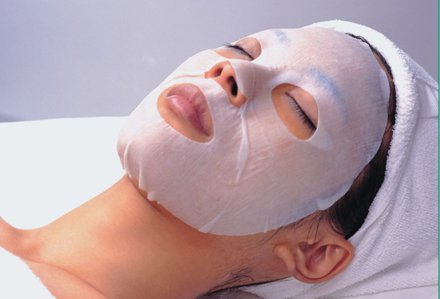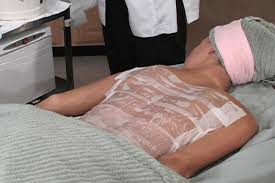 Paraffin Massage Therapy, Not just for your face, hands or feet! This treatment can be done to your whole body using wax strips. Not to be confused with wax hair removal. This treatment soothes chronic joint pain and relaxes stiff muscles, and improves blood flow to the treated area. It increases range of motion for people with arthritis, bursitis and other chronic conditions that cause pain and stiffness. Paraffin treatments also smooth and soften dry, chapped, rough and scaly skin. It can be helpful for chronic skin disorders such as eczema and psoriasis.
Paraffin therapy is one of the most effective methods of applying deep heat to relieve pain and stiffness. The warm paraffin also moisturizes for healthier looking, softer skin. Warm paraffin wax treatments are fast-acting, drug-free, and versatile, providing heat therapy for many different applications. Paraffin therapy helps in the treatment of muscular pain, joint pain and inflammation. It also soothes and moisturizes skin conditions, increases circulation, and has an anti-stress quality in it's relaxing effect.
Paraffin Spot Massage Therapy is applied to only the needed areas (such as elbows, shoulders, knees).
Paraffin is Made in the USA, contains only FDA Food Grade ingredients, odorless, colorless and hypoallergenic, lightly scented and tinted, paraben free!
http://www.therabathpro.com/about_paraffin_new.php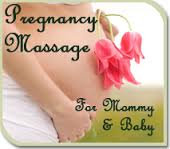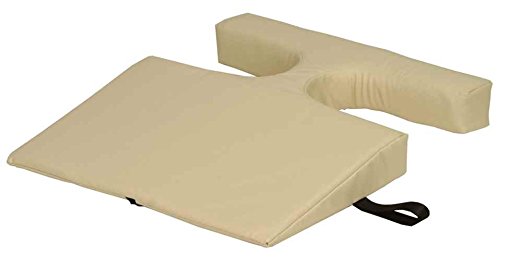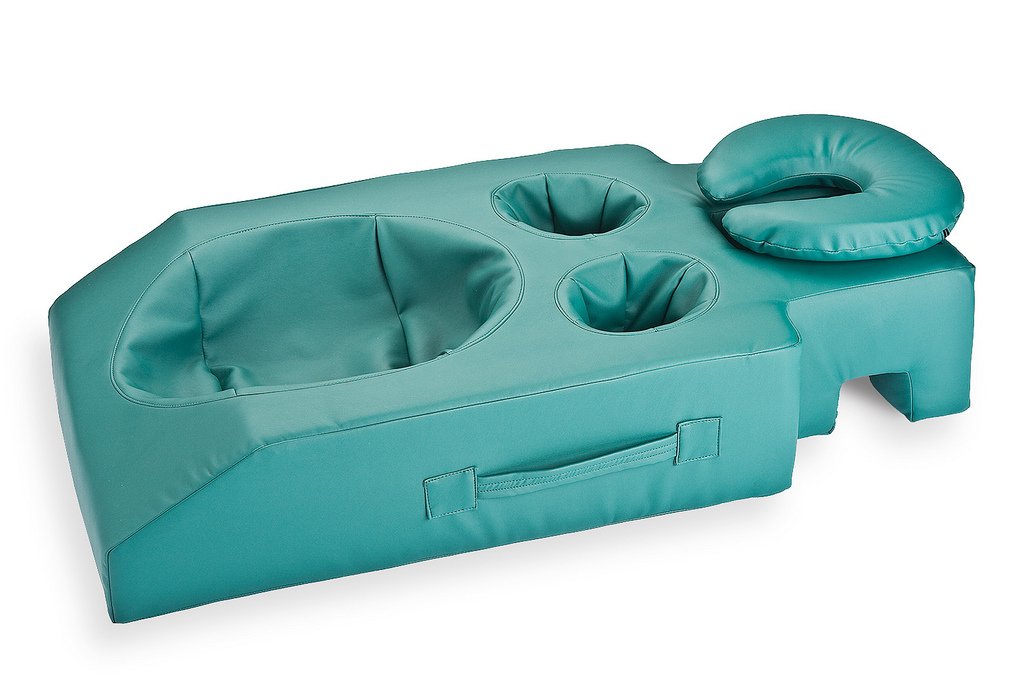 Prenatal Massage has been used for centuries to improve overall health, reduce stress, and relieve muscle tension. Massage and pregnancy has often received ambivalent responses from the health community regarding the safety and purpose of massage during pregnancy. Modern investigation and research is proving that prenatal massage therapy can be a very instrumental ingredient in women's prenatal care and should be given careful consideration.
Swedish Massage, the most common techniques are associated with relaxation, wit long, light strokes, deep kneading and focused friction type movements to increase circulation and relax muscles and to ease the many discomforts associated with pregnancy.
A specially designed pregnancy pillow can allow the mom-to-be to lie face down, or if side lying is preferred, pillows and bolsters are available.
We also have a t-wedge feminine breast bolster pillow available!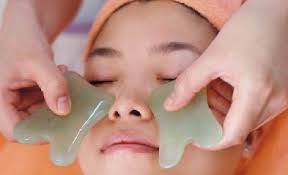 Gua Sha Massage used in China for more than two thousand years, gua sha means to scrape toxins. A method of promoting blood circulation and removing toxic heat, blood, and lymph from the body, gua sha involves scraping the skin with a variety of warmed gua sha jade stones to facilitate pain relief and smoothing and lifting the face, making the face feel invigorated, more radiant and smooth. Working the feet further with Gua Sha Jade Stones activates the meridian pathways more deeply and provides a complete therapeutic treatment, that will continue to have ongoing benefits beyond the treatment room!
Warmed organic oils and or plant therapy are applied to the skin to open pores, increase deep cleansing, and improve circulation.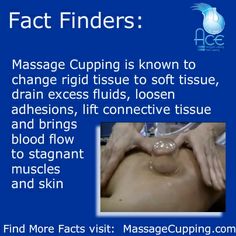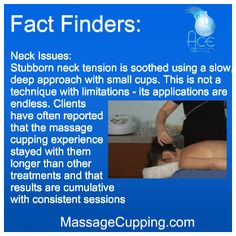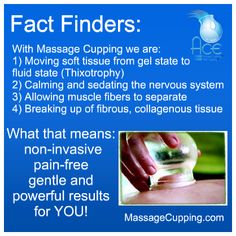 ACE Massage Cupping is much like the inverse of massage, rather than applying pressure, it uses a gentle pressure to pull it upward. This is a non-invasive treatment that uses suction/negative pressure. The cups are usually glass or silicone and look like a bell. When the cup is placed over the area being treated, suction is created causing the tissue to be stretched up into the cup. Massage Cupping is incredibly versatile and the basic movements can be easily customized to accomplish a wide variety of massage techniques, from deep tissue to relaxing to lymphatic drainage. Massage Cupping complements many health treatments including Chiropractic, Massage and Physical Therapy.
By creating suction/negative pressure, Massage Cupping is used to soften tight muscles, loosen adhesions and lift connective tissue, bring hydration and blood flow to body tissue, move deep inflammation to the skin surface for release, and drain excess fluids and toxins by opening lymphatic pathways and sedates the nervous system.
Massage Cupping can help with: Traumatic Injuries, Pain Reduction, Chronic Conditions, Detoxification, Orthopedic Conditions, Arthritis, Inflammation, Migraines, Headaches, Sinusitis, TMJ, Fibromyalgia, Cellulite, Scars and Stretch Marks, Facial Treatments, Body Shaping, General Relaxation and so much more.....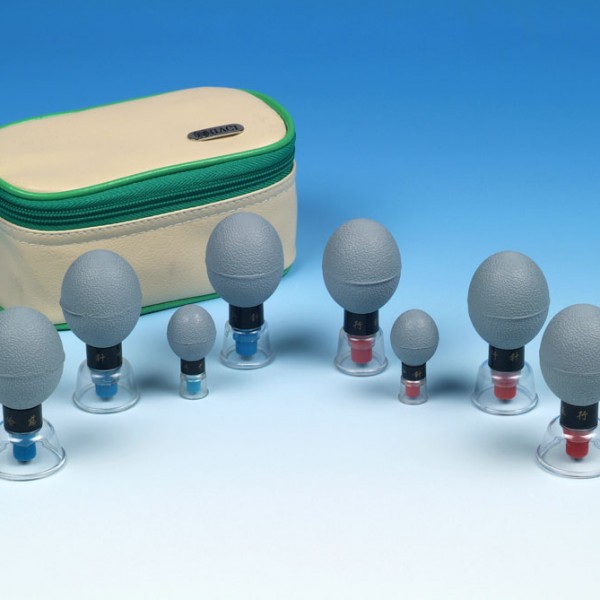 ACE Magnetic Micro-Cupping, the basic theory behind the use of magnets has been applied to pain management and injury. All body tissues seem to respond to magnetic therapy, including bone and nerve tissue! The micro-cups have positive and negative charged poles, in varying cup sizes and feel great on the hands and feet when used in Reflexology Treatments!
https://massagecupping.com/practitioner-list/