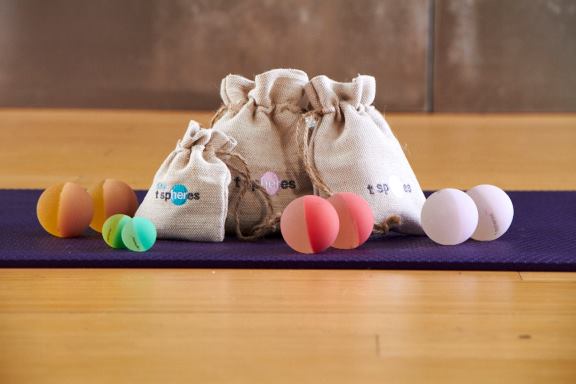 Terry's Therapeutic Massage Is a t spheres Certified Spa & Retailer!!
De-Stress anytime, anywhere naturally with T Spheres!
Refreshing. Energizing. Pain Relief
NEW T Spheres Larger Size & Aromas
Developed for fitness and yoga enthusiasts, dancers, athletes, and travel!
EMPOWER MINT 58mm (tennis ball size) - Aromatherapy Infusion: Peppermint
INNER STRENGTH 58mm (tennis ball size) - Aromatherapy Infusion: Eucalyptus & Lemongrass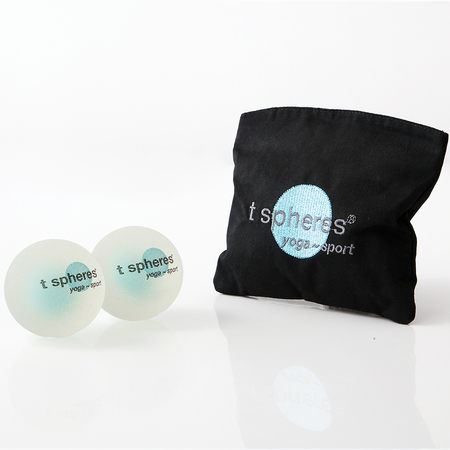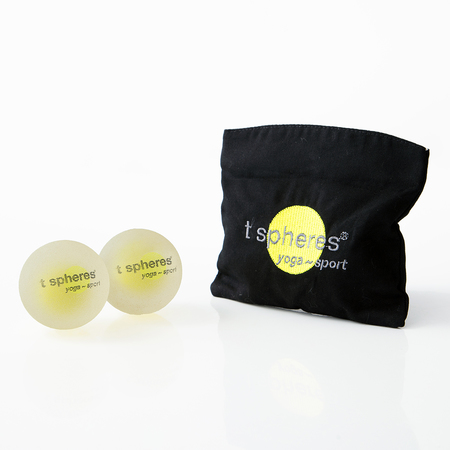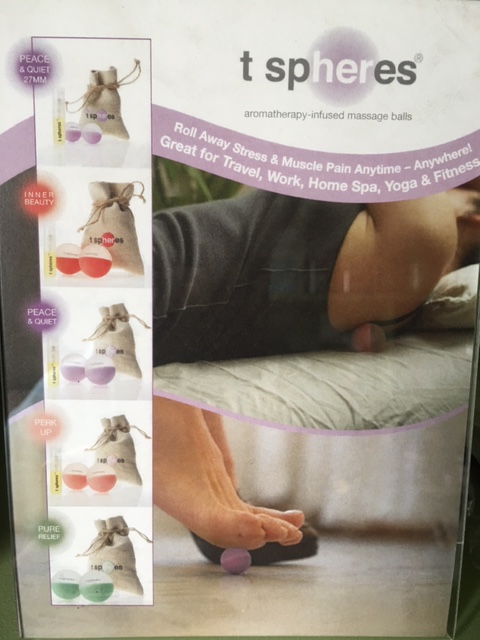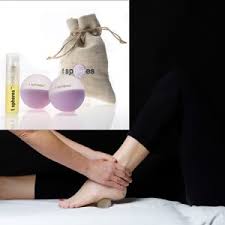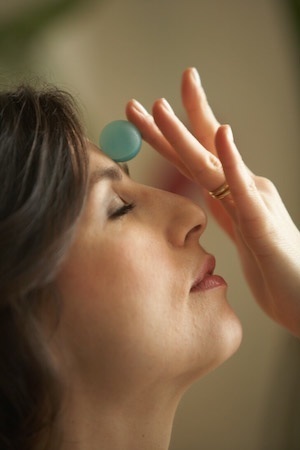 T Spheres are massage and aromatherapy in one portable product, great for travel, office, home spa, yoga or fitness! T Spheres are innovative self-massage tools born from over 17 years of research and development. The infusion of aromatherapy essential oils into a perfectly weighted double-purified rubber compound makes T Spheres unique – offering both beneficial attributes in a portable package. Each set comes with two T Spheres, a spray-top refresher oil and simple "how to use" pictorial instructions in a travel bag.
Created By A Professional Massage Therapist
Stephanie Whittier LMT, CST has been practicing massage therapy, craniosacral therapy and studying movement in relationship to pain relief for over 25 years. Her extensive education, diverse clientele and constant travels for her work led her to the invention of T Spheres.
About The Aromatherapy Oil In T Spheres
The aromatherapy in the T Sphere massage ball is pure essential oil. We do not use manufactured scents or chemical binders in the process of making T Spheres. The specifics are trade secrets but the concept allows for the aroma to disperse for slow release of the essential oil and can last up to 3 months. Each set has specific beneficial qualities and can be found listed on the shop pages.
Benefits Of Aromatherapy
Our brain processes aromatherapy essential oils through the olfactory system to the Limbic System, which controls our emotions and stores learned memories. The central nervous system is the key connection for the aromatherapy inhalation to assist your system to respond to stress levels naturally. This causes chemicals to be released and can alter mood and mindset – causing feelings of relaxation, calmness, or even stimulation. That's aromatherapy working – the power of essential oils can be transporting!
Benefits Of Self Massage Techniques
Improves range of motion
Eases medication dependence
Enhances immunity by stimulating lymph flow – the body's natural defense system lessens depression and anxiety
Pumps oxygen and nutrients into tissues and vital organs, improving circulation reduces muscle spasms and cramping
Releases endorphins – amino acids that work as the body's natural painkiller
Additional Ways To Use Your T Spheres
Warm technique: Bring water to a boil on the stove or in an electric teakettle – next drop one or both T Spheres in the boiling water for 2-3 minutes, remove and pat dry. Alternatively – place in a microwave-safe bowl with water and microwave for 1-2 minutes. Always test the temperature before application when using warm technique.
Cold technique: Place in freezer for 30 minutes or store in the freezer (use a zip lock bag to retain freshness). This technique is recommended for migraines (at onset), headaches, sinusitis, to calm swelling from seasonal allergies and hangovers.
*Refreshing is recommended after using the warm & cold techniques.
Caring For Your T Spheres
Do not use soap or antibacterial gels – this will damage the textured rubber compound. Rinse in cold or warm water and refresh when desired. Alternately – mix 50% hydrogen peroxide and 50% water in a bowl and soak (5-10 minutes) to deep cleanse and refresh. The aromatherapy oil infusion lasts up to 3 months when you store your T Spheres in their EVA-lined carrying pouch.
Using Your Aromatherapy Refresher Spray
The spray-top bottle for refreshing the aromatherapy can be applied as desired or needed. Spray one or two pumps of oil into the palm of your hand – massage your hands with the T Spheres – allowing the T Spheres to absorb the oil. Alternately – Spray one or two pumps into the portable pouch directly to refresh the aroma and place your T Spheres inside to allow absorption. Additionally – the refresher oils can be used as pick-me-up aroma on pulse points such as wrists & neck.
*Please use caution when re-infusing T Spheres when wearing fine garments or resting on fine linens.
Refill Oils For Your T Spheres Set
Refresher Sprays and Bath & Body Oils for T Spheres products are 100% natural, organic & pesticide free – hand blended per order in NYC at T Spheres Inc.
PRODUCT INFORMATION
Health Notes
If you are pregnant, consult your doula, midwife, prenatal massage therapist or doctor. Latex free product. For any other health concerns consult your health care practitioner. This product is for adults and supervised children ages 3 and up and should not be used as a toy for pets: Choking Hazard.
Recycling
We encourage refilling and recycling of your old T Spheres products. This helps with our carbon footprint and honestly, just makes good sense!
Videos & Training - Learn self–care and self–massage techniques from professionals who use T Spheres for themselves and their clients.
Carpal Tunnel, Forearm Care, Headache & TMJ, Upper Back & Shoulders, Piriformis & Sciatica, Hips & Legs, Foot & Reflex Points,
As Seen In - T Spheres Press & Media